Weddings & Special Event Testimonials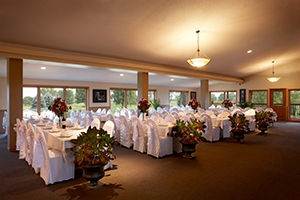 "The one thing that stands out in my mind in my wedding day was I didn't have to worry about one thing! You were always there in the background to go to when I needed you or the staff was always working hard to transition everything from one event to the next without me having to coordinate. It was a great flow. From the outdoor ceremony, to the bride and groom toast back in the clubhouse, to hors d'oeuvres, to cake cutting to dinner.
Making the reception plans was very easy. You had great suggestions, but also listened to mine and always said, "Yes, we can do that!" You had everything I wanted ready to go on our special day just as planned.
Food was amazing! Always is, from the bridal showers, baby showers and the wedding reception I have had at Platteview.
The views on the golf course are amazing and there are countless, beautiful backgrounds for picture taking. If I could afford to I would have an anniversary reception there every year! Lol!
Thanks again for everything you and the staff did for us on our wedding g day. You all helped make our day perfect and a day for even the bride and groom to enjoy along with our guests."
Love,
Mrs. Richard Wellendorf
---
"Platteview Country Club was the perfect place to have our wedding reception. My husband golfed with his friends the day before and Leah was wonderful to work with and really made sure that the things we wanted were done. Awesome!!!"
Janessa
---
I found Platteview on a random google search – however, the minute we passed through the iron gates of the Country Club, I knew it was the perfect place for our wedding and reception. I had a fall wedding and I knew the casual/elegant style and the beautiful outdoor setting was going to set the stage for my magical day. My decision to use the club was solidified when I met Leah - her friendliness, professionalism and overall character brought me a sense of comfort which became very soothing to me as the wedding day crept closer. He ability to listen to my "wants" and make them become a reality far exceeded any expectation or ideas I had in my head.
Leah and her team took care of everything - by the time my hair and make was done (in the convenient locker room ) I came up stairs to see a fully put together venue. I'd like to mention what a wonderful amenity it was to be able to have everything in one place. The guys were able to get ready and relax in the men's locker room while the ladies got their hair and make-up done/ eat lunch and prepared for pictures on in women's locker rooms. Everything was brought to us – we had no reason to leave the locker room until picture time. The separate spaces for men and women ensured I wouldn't see Steve until it was time to walk down the aisle – which was very important to me.
The club prepared a delicious buffet and the service was very friendly & professional – The bar was fully stocked and staffed which I really appreciated because my guests were able to spend more time dancing and less waiting for their beverages. Leah and her staff are such a wonderful compliment to such a wonderful space - and I am truly grateful that my random google search lead me to my perfect wedding venue. I wouldn't have changed a thing. I am forever grateful to Leah for taking charge of my wedding and ensuring that my dreams became a reality on September 13 , 2014
Mrs. Amber Coenen
---
Hi Leah,
"Just want to thank you and your staff for the great job you all did to make our 50th reunion so memorable. Everything was perfect and I heard nothing but great comments from everyone there."
Thanks again,
Wonda Parin
---
"All of the Guests were very happy with the location (beautiful they said; nice to see and be outside); they very much liked the food. There was a comment on how courteous and helpful the staff was. Gee!
One cousin (maybe approaching 80 yrs old) said, "This is the best party I've ever been to."(I think she also probably enjoyed seeing so many of the relatives and seeing the photos, videos too.)
None-the-less, Platteview CC AND YOUR fine support and know-how created the right location for the airy, light filled, beautiful location that brought the success that blossomed.
THANK YOU and YOUR STAFF!!!"
With gratitude,
---
"Wanted to say thanks to you, Bobby, and you're entire staff for hosting our 2014 St Matthew Community "Benefit the Birdie" outing. We plan on continuing our partnership with the country club for many years. While hosting a small group this year, we were treated as the most important people at the course. We had 100% positive feedback from our players. Cost was an exceptional value. Lastly, your staff is top notch. Every request was met with the same response, 'Sure, I can do that for you!'"
Scott Eversole
Tournament Committee Chair
St Matthews Catholic Church/School
---
Bobby,
Just want to say Thank You again to your and your staff. Also take a bow for the weather you lined up for us.
I cannot say enough for your staff, they were just super. The young ladies who came out on the course were excellent and tried their hardest not to disrupt the game and still provide quick and efficient service. Quite frankly I've never seen cart services who came around so often. She must have a V-8 in that cart. The ladies behind the bar and food service area also need a pat on the back because their food and drinks were very good and we didn't have to wait long for them.
All in all it was one of the best experiences that the LSMGL has had at a private club (or anywhere else). Many of the golfers have asked me to let you know how much they appreciated the Course, staff, and of course the PRO who knows how to run a quality Funday. PS: We definitely want to do this again next year!
Regards,
Dennis Lacquement
LSMGL Funday Manager