Organized Games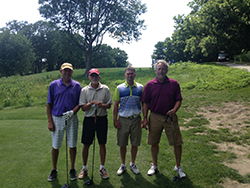 Face it, one reason you join a golf club to meet friends and have the opportunity to get into and play in "Games" that allow you to be competitive with golfers of your own ability, better and worse.
Platteview G.C. may have the most organized selection of games run totally by members in the entire Metro Area. Every Thursday, Saturday and Sunday, you are just one email mail away from confirming you would like to play, and you're in.
The ladies have organized games as well, and caters to players of all abilities.
Of course the men's league is every Tuesday night, and the ladies on Wednesday.
Bottom line: If you like to play golf, and meet new people, Platteview G.C has a game for you. For more information contact General Manager Leah Dickerson ldickerson@platteviewcc.com