Junior Golf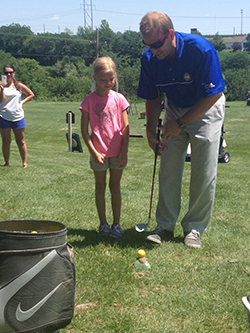 Platteview Gold Club's summer camp sessions include lessons in rules, etiquette, and behavior, that provides kids the ability to get out onto the golf course and act and play appropriately.
Instruction includes, fundamentals of the swing and how to appreciate the values that golf has to offer. Our PGA Professional staff uses many teaching techniques and drills, and has formulated games and contests that make learning the game of golf fun
Our philosophy is to keep kids active and not waiting. We have a variety of activities and a number of coaches and volunteers to make this possible. Sessions are divided into smaller groups, which participate in all activities on a rotational basis. Our format is developed to promote as close to a one-on-one instruction experience as possible.